In 1909 tracks were laid for use by hand-propelled trolleys to carry goods and luggage.

In 1922 a narrow gauge electric railway opened to take passengers the full length of the Pier.

This railway with its original engine and rolling stock is still operational today and an integral part of the local transport system to Southampton. It continues to connect with the half hourly ferry service to Southampton

COME AND HAVE A JOY RIDE
The line is operated by two four wheel electric motor tractor units built by Brush during World War 1.

As built these locomotives were battery powered, and were used at the wartime mustard gas factory at Avonmouth.

The track is laid to a 2 foot (60cm) gauge and is electrified at 240V DC by means of a third rail on the seaward side of the track that is dropped down to 110V for the tractor units to use. The line consists of a single track with two non-electrified sidings at the landward end.
The locomotives were transferred to Hythe after the war, where they were converted to collect power from a third rail and had their batteries removed. The line owns four passenger cars, two of which are equipped with a driving cab at their seaward ends. In normal operation, the single train in service is made up of one of the motor/tractorunits propelling three passenger cars.

Hythe Pier Railway is Britain's oldest continuously operating electric pier train, and has been awarded a certificate to that effect by the

Guinness Book of World Records

.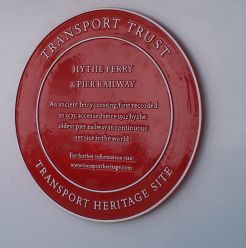 The Transport Heritage Programme commemorates Britain's rich and globally important legacy in the development of transport and presents it to a new and wider audience.
The most significant of the many hundreds of locations covered by the Programme will be marked with a heritage plaque, known colloquially as a 'Red Wheel', which will be erected on the site.
Red wheel awarded to Hythe Ferry & Pier Railway
July 14th 2010